Are you someone who likes to set professional work goals? If so, you're in good company! Setting and striving for goals is a trait that is often associated with successful people.
But what are some common professional work goals?
Keep reading to find out!  😎👇
Chapters
Chapter 1

Professional Development Goals & Benefits

Chapter 2

Short-Term Career Goal

Chapter 3

Long-Term Career Goal

Chapter 4

Professional Goals Tips
Chapter 1
Professional Development Goals & Benefits
Why should you have professional development goals?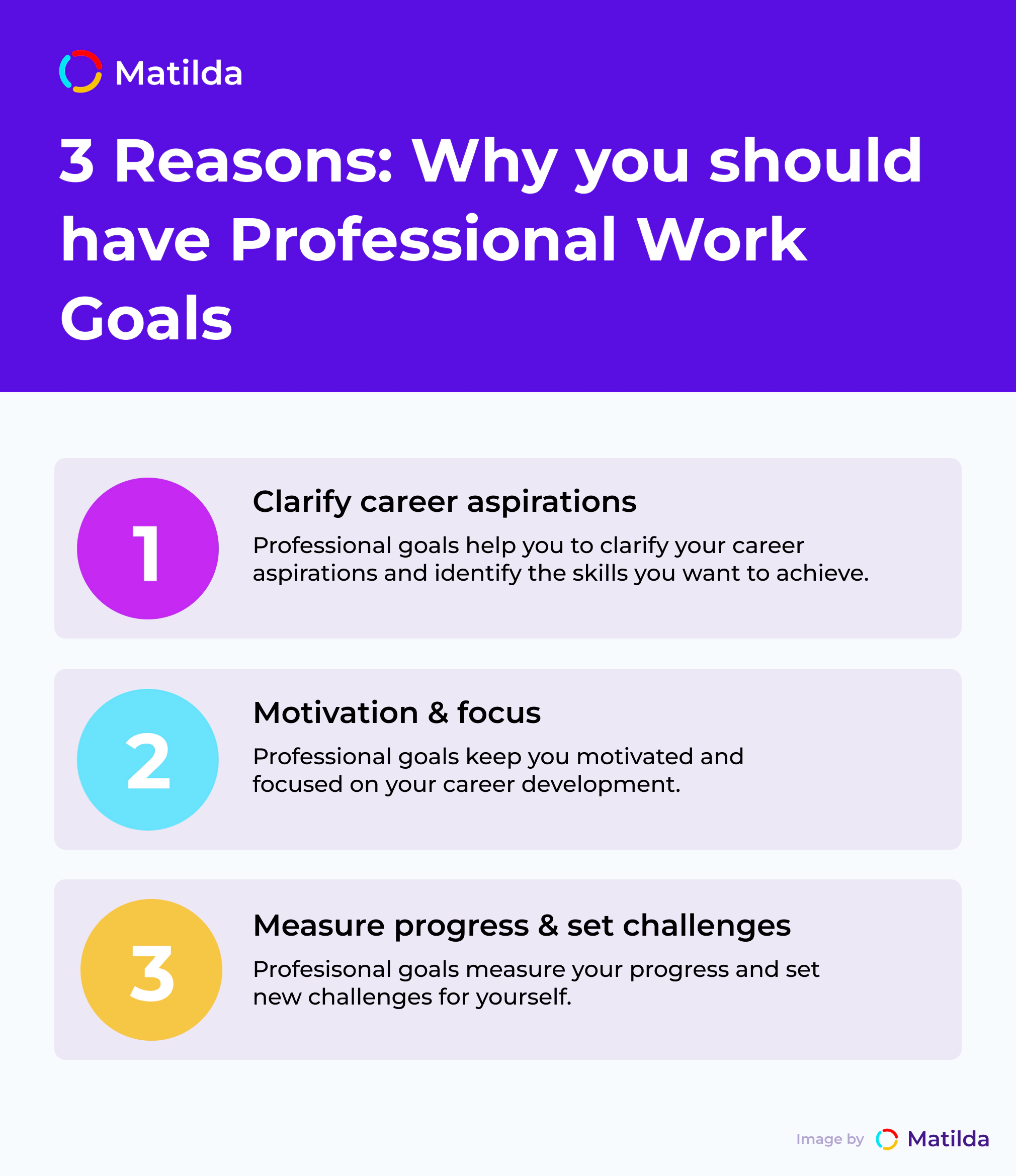 Professional development goals are essential for a number of reasons. First, they can help you to clarify your career aspirations and identify the skills and experience you need to achieve them.
Second, professional goals can keep you motivated and focused on your career development.
Finally, professional goals 🎯 can help you to measure your progress and set new challenges for yourself.
Why Setting Professional Goals at Work Is Important
Setting goals is an important part of any work life. By setting goals, you can stay motivated and focused on what you want to achieve.
Plus, it can help you to measure your progress and feel a sense of satisfaction when you reach your goals.
So if you've been feeling stuck in a rut 😐 at work, why not try setting some professional goals? It could be just the thing you need to jump-start your career.
How to Pick Good Professional Development Goals for Work
A professional development goal is a specific, actionable, and measurable objective that you set for yourself in order to grow in your career.While some professional goals may be short term goals, others may be long-term. Regardless of the time bound, professional development goals should always be aligned with your larger career objectives.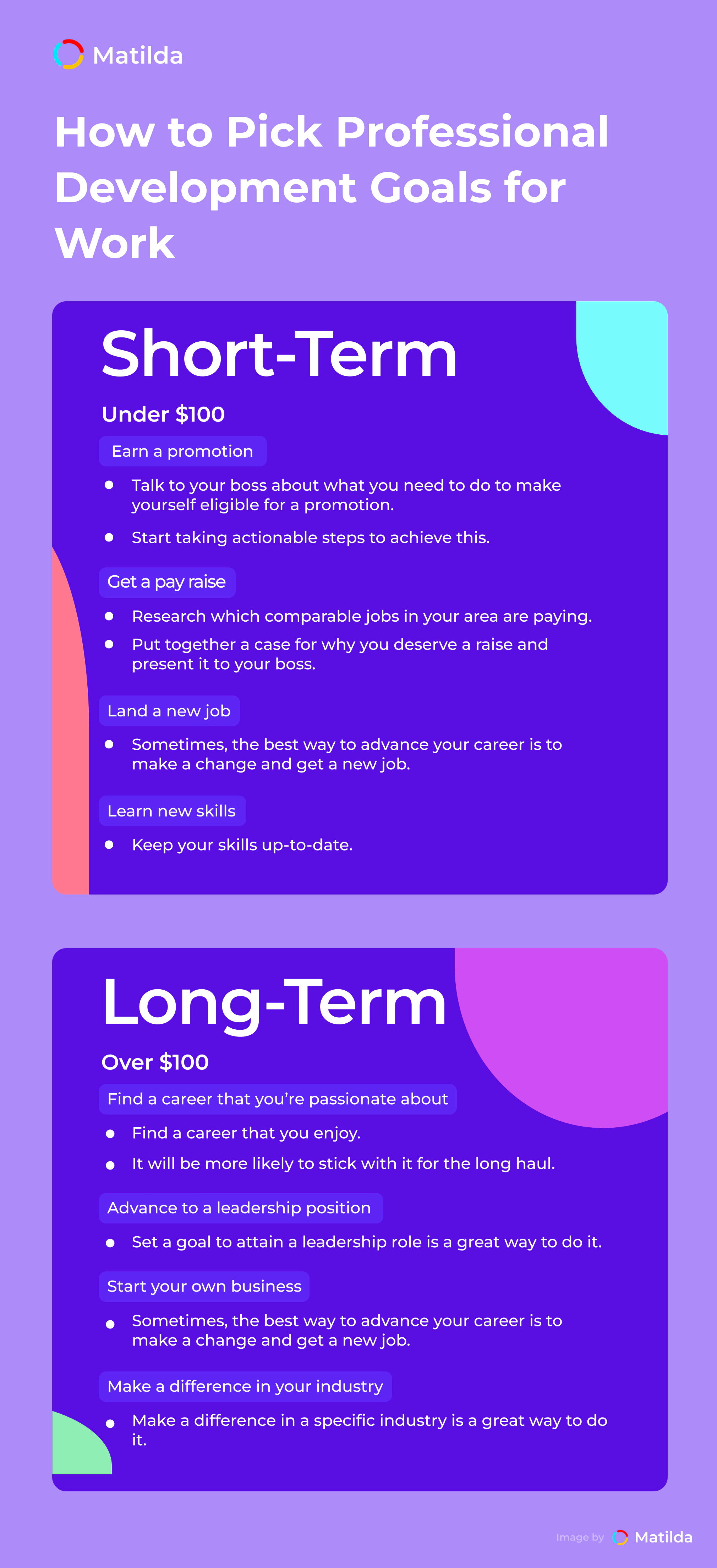 1. Short-Term Career Goal Examples
Here are some examples of short-term career goals that will help you take your career to the next level:
👉  Earn a promotion: If you're looking to move up the corporate ladder, then talk to your boss about what you need to do to make yourself eligible for a promotion and then start taking actionable steps to achieve it.
👉  Get a pay raise: If you think you're due for a raise, start by doing some research on what comparable jobs in your area are paying. Then, put together a case for why you deserve a raise and present it to your boss.
👉  Land a new job: Sometimes, the best way to advance your career is to make a change and get a new job.
👉  Learn new skills: In today's ever-changing workplace, it's important to keep your skills up-to-date.
2. Long-Term Career Goal Examples
It can be difficult to predict the future, but setting long-term goals is a great way to stay focused and motivated on your career path.
Here are a few examples of long-term career goals:
👉  Find a career that you're passionate about: This is often easier said than done, but it's important to find a career that you enjoy. Not only will this make your work days more bearable, but you'll also be more likely to stick with it for the long haul.
👉  Advance to a leadership position: If you're looking to move up in your career, setting a goal to attain a leadership role is a great way to do it.
👉  Start your own business: For many people, the ultimate career goal is to start their own business. If this is something you're interested in, start planning and taking steps towards making it happen.
👉  Make a difference in your industry: If you want to leave your mark on the world, making a difference in a specific industry is a great way to do it.
Tips for achieving your Professional Goals
Achieving your professional goals can seem like a daunting task, but it's important to remember that Rome wasn't built in a day.
Let's get started: 😉

1. Increase Emotional Intelligence
If you want to increase your emotional intelligence for your professional goals, there are a few things you can do.First, try to become more self-aware. Pay attention to your emotions and how they affect your thoughts and behavior.
Second, work on building healthy relationships. This means learning how to communicate effectively, handle conflict, and show empathy.
Finally, make sure you're taking care of yourself physically and mentally. 🙂
2. Obtain Higher Credentials Through a Course
If you're looking to obtain new credentials that will make you more attractive to your current employer, don't let your lack of credentials hold you back!Whether you're looking to learn a new skill or earn a master's degree, there's a course out there for you. And with the vast array of online courses available, there's no excuse not to get started today. 👨‍🎓
Just think, in a few short weeks you could be on your way to an exciting and new career with a professional certificate.
3. Grow Your Network
It's important to always be growing your professional network. There are lots of ways to do this.
You can attend industry events, or host your own get-togethers. You can also join online communities, or simply strike up conversations with people you meet in your professional life.
Note
Whichever method you choose, remember that the goal is always the same: to meet new people and build relationships. With a little effort, you'll be surprised at how easy it is to grow your professional network.
4. Making a timetable or Gantt chart
One of the best ways to practice presentation skills is to create a timetable or Gantt chart for your professional goals.Creating a timetable or Gantt chart is a great way to visualize your measurable goals and see the steps involved in achieving them. It also forces you to think through the timeline of your presentation 📊, which can help you identify potential problems or areas where you need more practice.
Note
This will help you to visually see how much time you have for each task and what needs to be done when. You can use a traditional paper and pen method, or there are also many great software options available that can make the process even easier.
5. Becoming proactive instead of reactive
Being proactive is all about taking the initiative and being assertive. It's about anticipating problems and taking steps to prevent them.
It's about being a leader instead of a follower. And it can help you grow professionally as well as personally.
When you're proactive, you're always thinking ahead and looking for ways to improve. You're constantly challenging yourself to do better.
6. Take the initiative to make things betters
There are always going to be obstacles in your way and it can be easy to get discouraged. But if you want to achieve your goal, you have to be the one to take the initiative and make things better.
That means being the go to person when there's a problem and being proactive about your performance review. It might not be easy, but it will be worth it when you reach your ultimate goal.
So don't give up and remember, you're the only one who can make things better.
7. Reconnect with Old Peers
It's important to maintain a work life balance in order to stay healthy and happy. One way to do this is to reconnect with old peers.Whether you keep in touch with them regularly or only occasionally, they can provide an important support system outside of work. They can also offer valuable advice and perspective on your career goals.
So don't be afraid to reach out to your old friends – they just might be the key to achieving a healthy work life balance.
8. Revisit Your Career Goals Every Year
Unless you're one of those people who knows exactly what they want to do with their lives (lucky!), it's important to revisit your career goals on a regular basis.Even if you're happy with your current job, things can always change – and it's important to be prepared for career changes, whether they're voluntary or not.
By setting aside time frame each year to reflect on your career goals, you can ensure that you're making the most of your talents and opportunities for professional growth.
9. Keep Funds Ready for Emergencies
Anyone who has ever had a true emergency knows that they are never fun. They are also usually expensive.From a big picture perspective, it is one of the smart goals to have some funds 💵 set aside for when these big emergencies pop up. It is never fun to be caught off guard by an emergency, especially regarding money.
The best way to avoid this scenario is to plan ahead and have some money saved up specifically for when these big emergencies come knocking on your door.
10. Keep a Minimalist Wardrobe
Trying to get dressed in the morning can be a real pain, especially if your wardrobe is crammed full of clothes 👔 that you never wear. A surefire way to simplify your personal life is to embrace the minimalist fashion philosophy and purge your closet of anything that doesn't bring you joy.
It may sound like a lot of work, but once you've pared down your wardrobe to only the essentials, getting dressed will be a breeze.
Pro Tip
Plus, you'll save time and more money 💰 in the long run by not having to constantly buy new clothes that you'll never wear.
11. Keep a Healthy Diet
Do you want to achieve greatness? Do you want to be the best you can be? Then you need to keep a healthy diet!
Now, I'm not saying you need to go full-on rabbit food, but you do need to make sure you're getting all the nutrients your body needs to function properly for personal growth.
That means plenty of fruits 🍎 and vegetables, lean protein, and whole grains. And don't forget to stay hydrated! Drink eight glasses of water
a day, and cut back on sugary drinks.
12. Get Rid of a Toxic Habit
Anyone who's ever tried to break a bad habit knows that it's not easy. Whether it's smoking, or spending too much time on the internet, old habits can die hard. But with a little effort and perseverance, it is possible to get rid of a toxic habit for good.
First, identify what triggers your craving for the bad habit. Is it stress? Boredom? sadness? Once you know what sets off your urge to indulge, you can start to avoid those situations.
Goal setting is key when it comes to getting rid of a toxic habit.
Secondly, find a healthy replacement for the unhealthy behavior. Finally, stay strong! It's normal to slip up from time to time, but don't let one lapse turn into a full-blown relapse.
13. Don't Rely on a Single Gig
If you're like most people, you probably have a professional goal or two that you're working towards. And if you're really like most people, you're probably relying on a single gig to help you get there. But here's the thing: relying on a single gig is a risky proposition.
Sure, it might work out for a while, but what happens if something goes wrong? What if you lose your dream job or your hours are cut back? All of a sudden, your goal is in jeopardy.
That's why it's important to have multiple gigs. That way, if one gig falls through, you've got other options to help keep you afloat. So don't rely on a single gig – diversify your portfolio and set yourself up for success.
14. Always find new challenges to complete
Keeping your career fresh can be a challenge in and of itself. But it's important to always find new challenges to keep your mind sharp and your motivation high.
One way to achieve this is to regularly switch up your routine. If you're used to working at a desk, try training sessions or working from home one day a week. If you're used to working alone, try team collaboration. Or if you're used to a certain type of work, try something new entirely.
Pro Tip
A career change can be just the thing to jumpstart your motivation and help you find new challenges to complete.
15. Improve your public speaking and presentations
If you're like most people, the thought of giving a speech or presentation makes you break out in a cold sweat. But there's no need to panic! By following a few simple tips, you can deliver a killer industry award-winning presentation that will move your career forward.
Action Item
1️⃣ First, stay focused on your message. The audience will tune out if you start rambling or going off on tangents. 2️⃣ Second, keep it interesting! Use humor, stories, and examples to illustrate your points. 3️⃣ Finally, practice, practice, practice 🗣. The more prepared you are, the more confident you'll feel when it's time to step up to the podium.
16. Research other departments
If you're interested in professional development, why not look into other departments? After all, there's more to life than just your department.
Of course, research 🔍 is important. But don't just limit yourself to articles and books. Talk to people in different departments, attend workshops and conferences, and get out there and experience everything that your field has to offer.
17. Research about competitor for career development
If you're looking for a fun career development exercise, why not research a competitor?
It can be a great way to learn more about your industry and find out what your competition is up to.
Plus, it's a chance to get a little snooping in. Simply google their name and see what comes up. Have fun ✌!
18. Improve professional skills by time management
Do you feel like you never have enough time to get everything done? If so, you may need to work on your time management skills.
Time management is all about making the most of your time so that you can accomplish your achievable goals. Here are a few tips to help you get better at time management:
Action Item
👉 Make a list of things to do each day. 👉 Set time limits for each task⏳. 👉 Take breaks when you need them.
19. Become a Business Owner
There are many benefits to becoming a business owner. For one, you get to be your own boss. You get to call the shots and make all the decisions. And, of course, you have the potential to make a lot of money.
But becoming an owner is not all about the money. It's also about having the opportunity to be like industry leaders and to create something that will have a lasting impact.
When you're a business owner, you have the chance to make a real difference in the world.
20. Designing a personal development plan
Personal development planning involves creating a roadmap for your future, outlining the steps you need to take to achieve your personal goals. It's important to be realistic in your planning and to set achievable milestones that you can tick off as you progress.
You should also think about your personal brand – what qualities do you want to be known for? – and how you can develop these qualities further.
By taking the time to design personal development goals, you're increasing your chances of success in achieving your goals.
21. Seek Out Feedback
In order to reach our professional goals for work, it is important that we seek out feedback from those around us. By getting input from others, we can get a better sense of what we are doing well and where we need to improve. Of course, this isn't always easy to do.
However, if we can learn to take feedback in stride, it can be an invaluable tool for helping us reach our set goals 🏆.
22. Know your Strengths and Weaknesses
Moving forward in life sometimes requires us to take a step back and evaluate what we're good at and what we're not so good at. It can be difficult to admit our weaknesses, but it's important to know them so we can work on improving them.
On the other hand, our strengths are what make us unique and give us the ability to excel in certain areas.
Pro Tip
Recognizing and harnessing our strengths 💪 can help us achieve success in both our personal and professional lives.
23. Build Self-Promoting Materials
If you're looking to get ahead in your career, it's important to have a strong portfolio to develop a personal brand. This can include everything from an up-to-date resume 📄 to communication tools like a website or blog.
By having a central place to showcase your work, you can make it easy for potential employers or clients to see what you're capable of.
24. Stand up for your values at work to build your career path
In today's workplace, it's more important than ever to stand up for your values. With so many career paths to choose from, it can be tempting to just go with the flow and not make any waves.
But if you don't stand up for what you believe in, you're not likely to end up on a career path that you're truly passionate about.
So next time you're faced with a situation at work that goes against your values, speak up! It may not be easy, but it's worth it.
25. Learn to work with fewer resources
One of the best things you can do for yourself is to learn to work with fewer resources. It means that you should become more efficient in your use of resources. One way to do this is to set professional goals.
For example, if you're trying to save money, you might set a goal to only use two sheets of paper per day. Or if you're trying to reduce your carbon footprint, you might set a goal to only travel by foot 👣 or bicycle.
26. Become an expert in your field
If you want to become an expert in your field, there's no single magic bullet that will get you there. But if you're willing to put in the hard work, there are a few things you can do to help yourself along the way.
👉  Make sure you're well-versed in the basics of your chosen field. Whether it's a programming language or history or physics, you need to have a strong foundation on which to build your expert knowledge.
👉  Read widely and deeply in your field of interest; experts are generally those who have a breadth and depth of knowledge that goes beyond the superficial.
👉  Don't be afraid to experiment and take risks; experts are often those who are willing to push the boundaries and try new things.
27. Create a New Work Habit
A new work habit? Sounds like a pain.
I'm sure we can all find better things to do with our time than that. But if you're determined to add yet another item to your never-ending to-do list, there are a few things you should keep in mind.
1️⃣  Pick something that you're actually going to stick with and make it something you enjoy.
2️⃣  Set a realistic goal. Set yourself up for success by starting small and gradually increasing your goal as you get better at it.
3️⃣  And, don't be too hard on yourself if you slip up every once in a while. Everyone does. Just get back on track and keep going.
Final Words
Do you have your sights set on a lofty goal for next year?
Whether it's learning new skills, becoming more organized, or networking with top professionals in your field, we hope this list has given you some ideas to get started.