Constantly switching between different tools?
Always have a lack of time?
Frustrated by inefficient processes?
Not getting the results you want?
Meet Your All-in-One
Workspace
Matilda is the easiest way to work with your team and grow your business. Maximise productivity with one central workspace that connects your docs, tasks, meetings, chat and customers.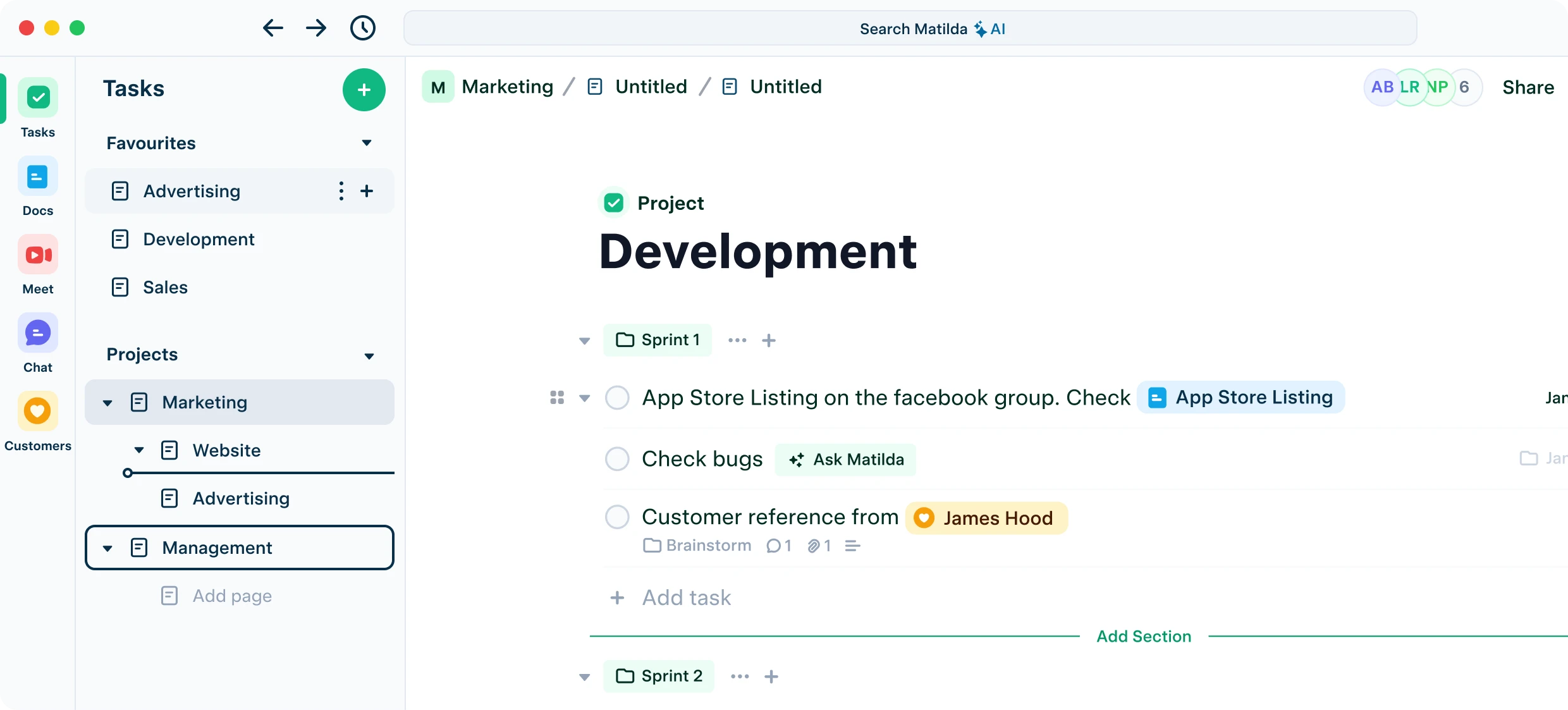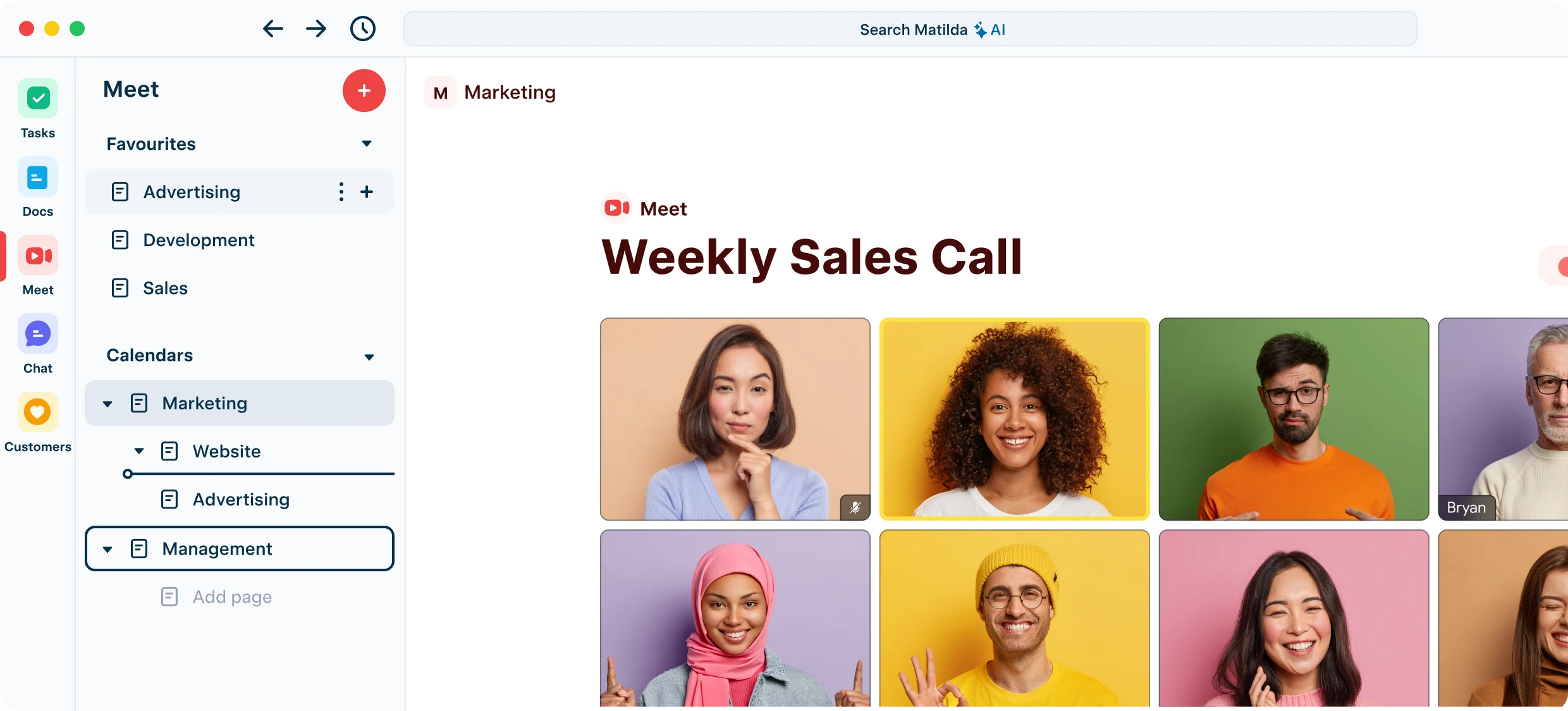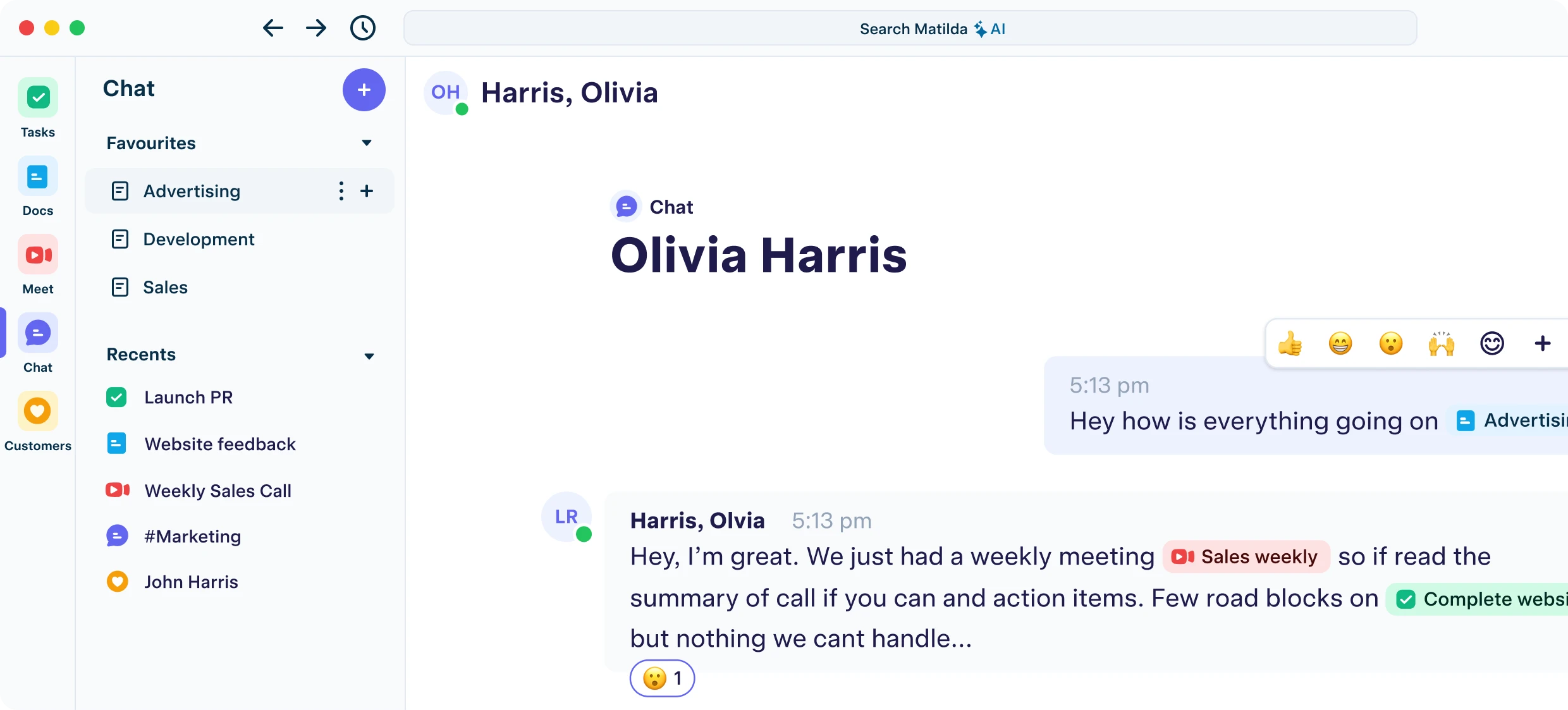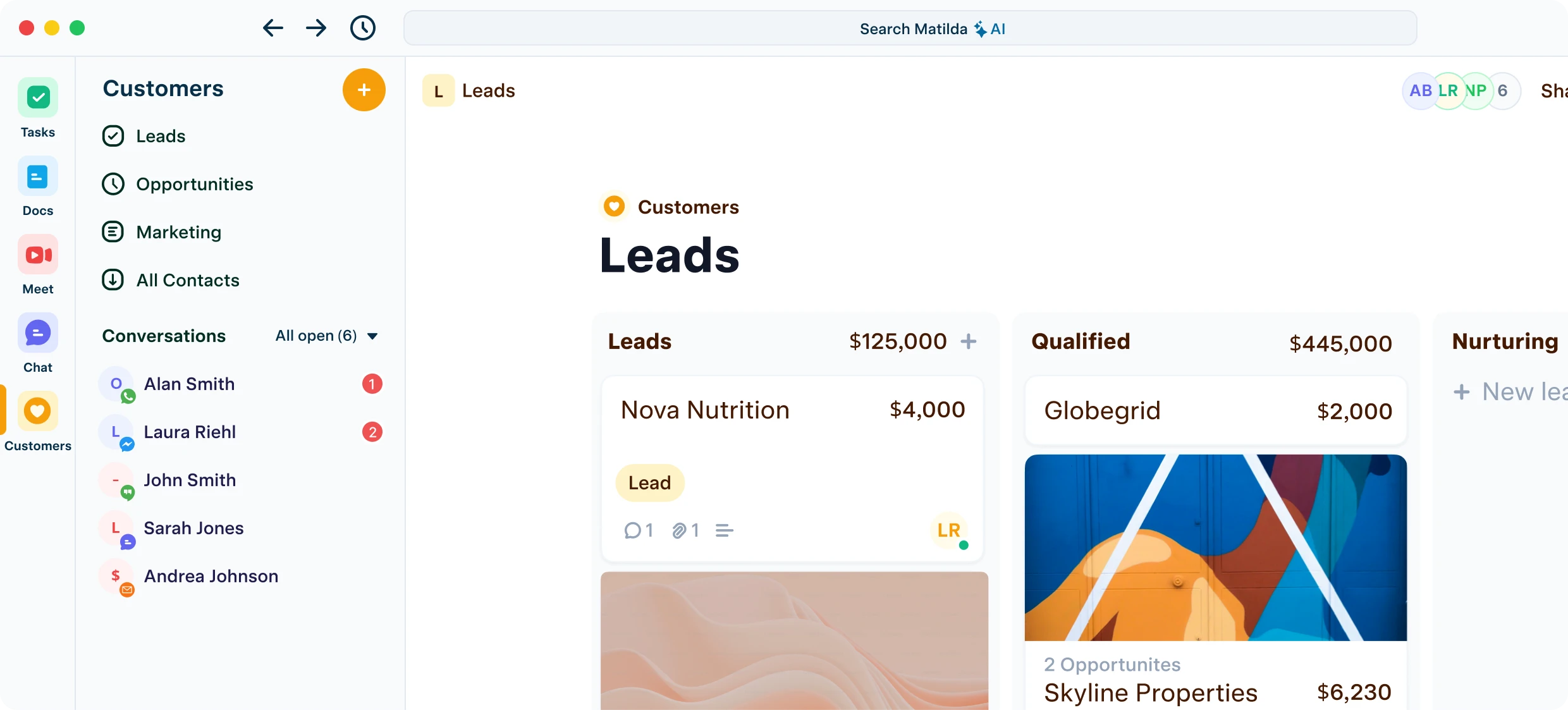 The data speaks for itself
Research shows Matilda helps you
, tackle bigger challenges, stay in

and discover a new level of work satisfaction.
Customer Acquisition
Costs

-26

%
Customer success
is our success
We're in this together - we're committed to providing solutions that drive your success.








Consolidate all your tools
From Product Management to Marketing - Reduce costs and increase efficiency with an intuitive platform that empowers everyone to Excel as one.
Messages
Realtime chat
To-do lists
Projects
Meetings
Documents
CRM
MatildaGPT: AI


Slack: realtime chat
$12.50/month per user

Asana: Projects and workflows
$24.99/month per user

Zoom: Meetings
$22.39/month per user

Google Workspace: Storage and docs
$12.00/month per user
Salesforce: CRM
$25/month per user

ChatGPT: AI
$20/month per user

$1,660/month for 10 users
Matilda also eliminates the Hassle Tax. Gone are the days of juggling separate bills, onboarding people in multiple places, training people how to use different tools. The advantages of Matilda go far beyond mere cost-effectiveness.
Pricing
Consolidate all your tools &
.
Matilda Plus
For companies using Matilda to connect several teams & tools.
$19.99$24.99 user/mo Save 20%0%
2 months FREE
$299.88$239.88
Start your free Plus trial
30-day money-back guarantee
AI Powered

SAML SSO

Private Teamspaces

Advanced Security & Controls

First-in-line 24/7 Priority Support

1:1 Private Onboarding Tour

Omni-Channel Marketing
Matilda Pro
Most popular
A place for small groups to plan & get organized.
$14.99$17.99 user/mo Save 17%0%
2 months FREE
$215.88$179.88
Start your free Pro trial
30-day money-back guarantee
AI Powered

Unlimited Pages for Teams

Unlimited File Uploads

Custom Fields

Team Management

Milestone Timeline
Matilda Free
For organizing every corner of your work & life.
Get Started
Collaborative Workspace

Projects

Docs

Meetings

Coming Soon

Real-Time Chat

1,000,000 Contacts
30-day money-back guarantee
Enjoy full access to the award-winning Matilda Workspace completely risk-free. We have a 100% satisfaction guarantee. If for any reason, you're not satisfied with your purchase tell us within 30 days of buying Matilda and get a full refund.
FAQs
Have questions about Matilda for your business? Let us help you answer them.
How does the free trial work?
How does seat pricing work?
What payment methods do you accept?
What is your 30-day money-back guarantee?